Eastex Environmental Laboratory, Inc. was established in October, 1986 as a Water and Wastewater analytical laboratory. .
The founding premise of Eastex Environmental Laboratory, Inc. is to provide superior quality analyses of engineering firms, municipalities, school districts, governmental agencies and industrial facilities. Providing consistent, dependable, and timely analyses has made Eastex Environmental Laboratory, Inc. the reliable leader in East Texas for all types of analytical testing.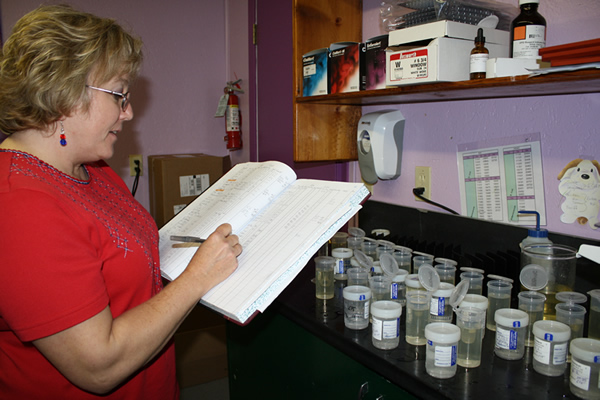 Amassing a team of trained and experienced professionals has enabled Eastex Environmental Laboratory, Inc. to provide the very best in analytical testing for our clients. Our professional staff includes individuals with degrees in biology, chemistry, toxicology, geology, agriculture, microbiology, and environmental science.
To support this team of competent professionals, state-of-the-art automated instruments including spectrophotometric and atomic absorption units enable Eastex Environmental Laboratory, Inc. to provide a rapid turn-around for our client's organic and environmental analysis requirements.
In addition to performing a wide variety of testing procedures that require extreme competence and accuracy, Eastex's professional staff maintains memberships and participates in a variety of professional and technical organizations to stay abreast of the latest changes in water testing technology and methods
From our original location in Coldspring, Texas, which serves our customers in the greater East and Southeast Texas region, Eastex Environmental, Inc. has established a facility in Nacogdoches, Texas to better serve our clients in Northeast Texas.
With an increased service region and additional facilities, Eastex Environmental has also expanded its range of services to a varied client base. Added to our specialty of compliance monitoring for domestic and industrial wastewater treatment facilities, we have expanded our services to include most environmental monitoring and evaluation analyses.
Eastex Environmental's experience and expertise in many areas of environmental analysis has enabled us to provide valuable information to our clients in both advisory and analytical capacity.
The laboratory's expanded analytical capabilities include the ability to analyze a variety of matrices such as water, wastewater, sediments, soils, and sludge.
Eastex Environmental, Inc. is dedicated to providing quality services that assist and enable our clients in meeting all applicable federal, state, and local regulatory requirements
Eastex Environmental Laboratory is TNI/nelac accredited by TCEQ. Maintaining systems to comply with the national accreditation helps ensure that the production of precise and accurate data for the end data user. Part of TNI/nelacaccreditation requires the laboratory to participate in 6 blind studies annually.
Adhering to quality assurance programs such as these are exceedingly important to fulfill both federal and state requirements for approved testing procedures and to assure the accuracy of water quality data.
Adhering to strict testing procedures and precise reporting standards in addition to maintaining scheduled equipment maintenance and calibration ensure highly accurate and reliable results. Strict confidentiality and accuracy in reporting methods of laboratory results are an integral part of Eastex Environmental, Inc.'s superior service to its clients.